So. I play Mj this week. #2 vs. #5. First trip back to the 'shoe for the Sooners since The Kick.
I don't pay attention to non-Big XII-2 football so I'm not going to do a full break down. Let's just have a look at the Sooners.
I return Baker Mayfield at QB, coming off a pair of great seasons and one hilariously filmed Public Intox arrest / WWE Smackdown. Supposedly Bake has a coke problem, and honestly I see it. You know what he doesn't have a problem with? Hitting his receivers in stride. Making great decisions. Making every throw. Escaping the pressure.
Going into the opener, the question was does Shake n' Bake have anybody to throw to, considering that Joe Mixon and Dede Westbrook were his best targets last year and both have taken their talents in receiving and woman beating to the next level. We've gone away from the tight end as receiver since Jermaine Gresham and MTM/BSMB-favorite Sam Bradford graduated, but OU has a returning 6'6" 260# TE in Mark Andrews and a true freshman beast named Grant Calcaterra, so you might see some heavy, two TE sets. I'm starting a true-freshman WR named SeeDee Lamb, who did some burning in the opener, a couple random giants, and a Kentucky senior transfer named Jeff Badet. Mj, I'd look for Lamb, Andrews, Badet, and a guy named Jordan Smallwood to make an impact in the passing game.
Running back is a huge question mark. 97% of our rushing yards left for the NFL and we returned two guys with carries. Abdul Adams looked like just a guy to me last year, but he came out hot in the opener. Caught some balls, hit the holes hard, ran confidently, and caught a few balls. Rodney Anderson hasn't played in two years due to injury, but people say he's good. Marcellius Sutton looks fast. I don't see a game breaker here, which is concerning. Not as concerning, though,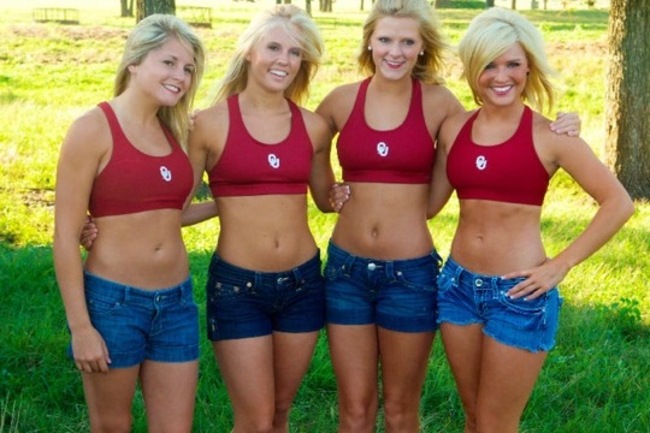 Because we return a huge line with 8 guys who have significant playing time. Orlando Brown is the headliner at LT. He's definitely an NFL right tackle and if he makes moves this year he's could be a first round talent. Plays on the edge of a 15 yard penalty at all times though. Phil Steele rated me the #1 offensive line in the country this year. It's the only area we have a real advantage.
Defense is scary. I'm very concerned. I switched back to a 4-3 after a three year 3-4 experiment. We return one guy who has shown the ability to get to the passer, Obo Okaronkwo. We have a bunch of just a guys on the D-Line. We start a true freshman at Mike linebacker, we start a true sophomore at right corner. Obo, Caleb Kelly, Stephen Parker, and Jordan Thomas are the guys to watch on defense.
Special teams are another huge area of concern. Both return spots are new and our punter/kicker is shaky. He's a better punter than kicker. He hasn't made a kick longer than 40 yards in like 16 games. I think he kicked sub 75% of his field goals last year.
New coach, obviously.
Our backup QB is a midget named Kyler who also plays baseball really well. Apparently he is a negro. I did not know this, although I should have because everybody kept saying "he's fast, but he's not just a running quarterback." In my defense, the Venn diagram intersection of black/quarterback/baseball/Kyler is a dot.
This is a bad year to go to the shoe. I think we keep it close, but given the obvious mismatch of my defense against the OSU offense I think Mj wins comfortably.